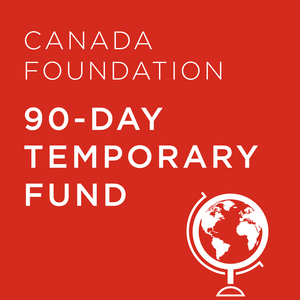 90-Day Temporary Fund - Canada Foundation
A Foundation can help if your organisation is anticipating a single or occasional gift but does not wish to enter into an ongoing membership relationship with the Foundation. No membership fee is required for the 90-Day Temporary Fund service, however, there is a £250 processing fee which requires payment in order to progress the application. The retention fee for this service is 5%.

Once payment of the processing fee has been received, you will immediately be sent an email with the application form to complete. Please check your junk email folder if you cannot see the email after a few minutes.
In processing your completed application and conducting our due diligence, Chapel & York will review submitted documentation to ensure your organisation is able to receive grants/payments in the appropriate countries. In this process, Chapel & York makes no judgements as to the value of the work you do or the capacity of your organisation to do it. Once we are satisfied your application meets the criteria for each Foundation applied for, the application is passed to the Foundation Executive Director to share with the board your desire to set up a fund. 
Once the application is approved by the Foundation, you will receive a Welcome Pack and some useful language you can share with donors when talking about your relationship with Chapel & York.
Note: 
The processing fee is non-refundable should your organisation choose not to proceed post payment, or if the application is rejected. Please see the full refund policy here.
Acceptance of your application will be communicated following completion of the due diligence.
The due diligence and Fund expire 3 months from the date the 90-Day Temporary Fund service is purchased.  Should a further 90-Day Temporary Fund be required please navigate back to the shop to purchase. 
Prices exclusive of VAT (where applicable)
---
We Also Recommend