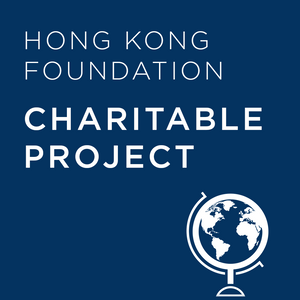 Charitable Project - Hong Kong Foundation
This fund is designed for those who are not an established charity or charitable company.
Whether you're just a group of friends fundraising for repairs to a community building, or a collection of experts looking to further a particular charitable cause, we can help you with our 'Charitable Project' Funds.
The benefits of a Charitable Project Fund are:
Your project is listed on the Foundation's directory page
Donors can identify you via the dropdown list on the Foundation's generic donation page or your own dedicated webpage
5% of donations received is retained by the Foundation
Donors will receive immediate receipts/acknowledgements for donations made online
You will receive immediate notification when donations are made online
You will receive notification for donations made by other means within 5 days of receipt to the Foundation
We will send you monthly donation reports in the months your Fund receives a donation.
Optional add-ons:
Enjoy a 25% discount on donation forms and fundraising pages for new customers as part of our end-of-year special. Don't miss out on this incredible deal – this offer is available until 23:59 31st December.
* Please note that the discount applies to the first year only. Discount is automatically applied at checkout. 
Donation Forms +  £500.00pa £375.00*
Fully customisable, embeddable donation forms that give your donors a branded and seamless giving experience. Make changes as you'd like, and as often as you like.
Standalone or embeddable donation forms.
Fully customisable, including branding and imagery.
Secure payment processing.
Access a dashboard with full donation form donation history.
Automated receipts sent to donors.
Notifications of donations received sent to you.
Fundraising Pages + £850.00pa £637.50*
Grow your fund with the tools to create successful fundraising campaigns by designing personalised fundraising pages that truly reflect your organisation.
Create multiple campaigns.
Customisable campaign pages – including branding, imagery, text and video.
Secure payment processing.
Centralised dashboard to monitor activity across all campaigns.
Goal tracking and progress indicators.
Automated receipts sent to donors.
Notifications of donations received sent to you.
Grants are made quarterly upon application. Additional granting fees may apply depending on the destination, size and ultimate intended use of any grant.

View discounts and set-up fees here. Once payment for initial year 1 membership and set-up fees has been received, you will immediately be sent an email with the application form to complete. Please check your junk email folder if you cannot see the email after a few minutes.
In processing your completed application and conducting our due diligence, Chapel & York will review submitted documentation to ensure your organisation is able to receive grants/payments in the appropriate countries. In this process, Chapel & York makes no judgements as to the value of the work you do or the capacity of your organisation to do it. Once we are satisfied your application meets the criteria for each Foundation applied for, the application is passed to the Foundation Executive Director to share with the board your desire to set up a fund. In the event of your application being rejected, you will be refunded the membership fee.
Once the application is approved by the Foundation, you will receive a Welcome Pack and some useful language you can share with donors when talking about your relationship with Chapel & York.
Renewal invoices will be issued in advance of start date, and payment will be required as per the terms stated on the invoice.
Note: 
Your annual renewal date will be taken from the date of initial payment. 
The processing fee is non-refundable should your organisation choose not to proceed post payment, or if the application is rejected. Please see the full refund policy here.
Due diligence will also be required prior to awarding funds to a suggested Charitable Project grant/payment recipient.
Acceptance of your application will be communicated following completion of the due diligence. 
Prices exclusive of VAT (where applicable)